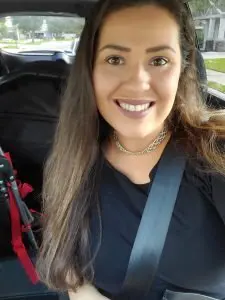 Hey everyone! My name is Danielle DeVargas and I started The Six Figure Dish in 2020 but I've been cooking and experimenting in the comfort of my own kitchen for way too long! Welcome to a little piece of my world where I share comforting family recipes.
Why The Six Figure Dish you ask?
I wanted to combine two of my favorite things into my blog's name. During the day, I work in the finance industry. An industry I hold near and dear to my heart because I've learned and grown so much these last 15 years. My career has taught me valuable lessons about navigating the business world and I will never take those lessons learned for granted. That's the six figure part of my name. Of course you should know the dish is for my love of making extremely tasty meals that my family enjoys eating.
Family
My husband helps me with my blog by working on the technical side of things. I hate to admit it, but I'm not very good at that stuff. Luckily I have him to do it for me. We have 3 beautiful kids who help with taste testing the recipes and boy are they picky! So when they fall in love with one of my dishes, I know the recipe is a winner.
Background
Most of the meals I make are inspired by mine and my husband's background. My parents are Brazilian and I learned to cook many traditional Latin American dishes like these Brazilian Chocolate Truffles (Brigadeiro) with my mother who is a great cook. My husband was born and raised in the Dominican Republic, so I love experimenting with making his favorite dishes like this Mangu Con Los Tres Golpes. Luckily, my mother in law has been cooking her entire life and doesn't mind sharing her amazing Dominican recipes with us.
My husband and I are both in love with Caribbean cuisine. When my husband's sister lived in Puerto Rico, she owned a restaurant that served amazing, traditional Puerto Rican dishes like these Alcapurrias. We visit Puerto Rico whenever we get a chance. It truly is a gorgeous Island with so much to offer.
I believe that my cooking has evolved with time to reflect the many experiences and dishes I've tasted in different Latin American countries. Of course, my all time favorite is Brazilian cuisine because I was raised on it. There is something about a plate of feijoada, rice and meat or some juicy picanha on the BBQ grill that I will always hold near and dear to my heart. Homemade Brazilian cuisine is a taste of home for me. But, I do love and appreciate what each culture has to offer and that is the reason why I love making a little bit of everything.
My Love For Appliances
I'm also a girl who is in love with her kitchen appliances. You will see that many of my recipes were made in the instant pot, crockpot or air fryer. For busy moms like myself, these appliances are a life saver on weeknights. I have a great variation of sweet and savory meals made in all of these kitchen appliances that I believe you will enjoy. I've definitely mastered making cheesecake in my Instant Pot, so be sure to check some of those recipes.
Enjoy My Recipes
So there you have it! Of course there's so much more to say but I don't have all day and neither do you! So take a look around at my recipe collection. If you do try one of my recipes, be sure to let me know how you and your family liked it.