It's almost that time of the year again where we want to treat the little ones with all things spooky and what better way than to have a list of 10 Halloween breakfast recipes that will make their mornings extra creepy and fun.
I hand picked each one of these 10 Halloween breakfast recipes because I know that during this time of year, parents are on the hunt for some delicious Halloween treats and activities to do with their kids. Cozy up on those cold, fall mornings with a hot cup of coffee and some pumpkin spice donuts or how about some spooky homemade pop tart ghosts? Each one of these adorable and unique recipe ideas are a special way to celebrate this fun filled season.
This post contains affiliate links. As an Amazon Associate, I earn from qualifying purchases.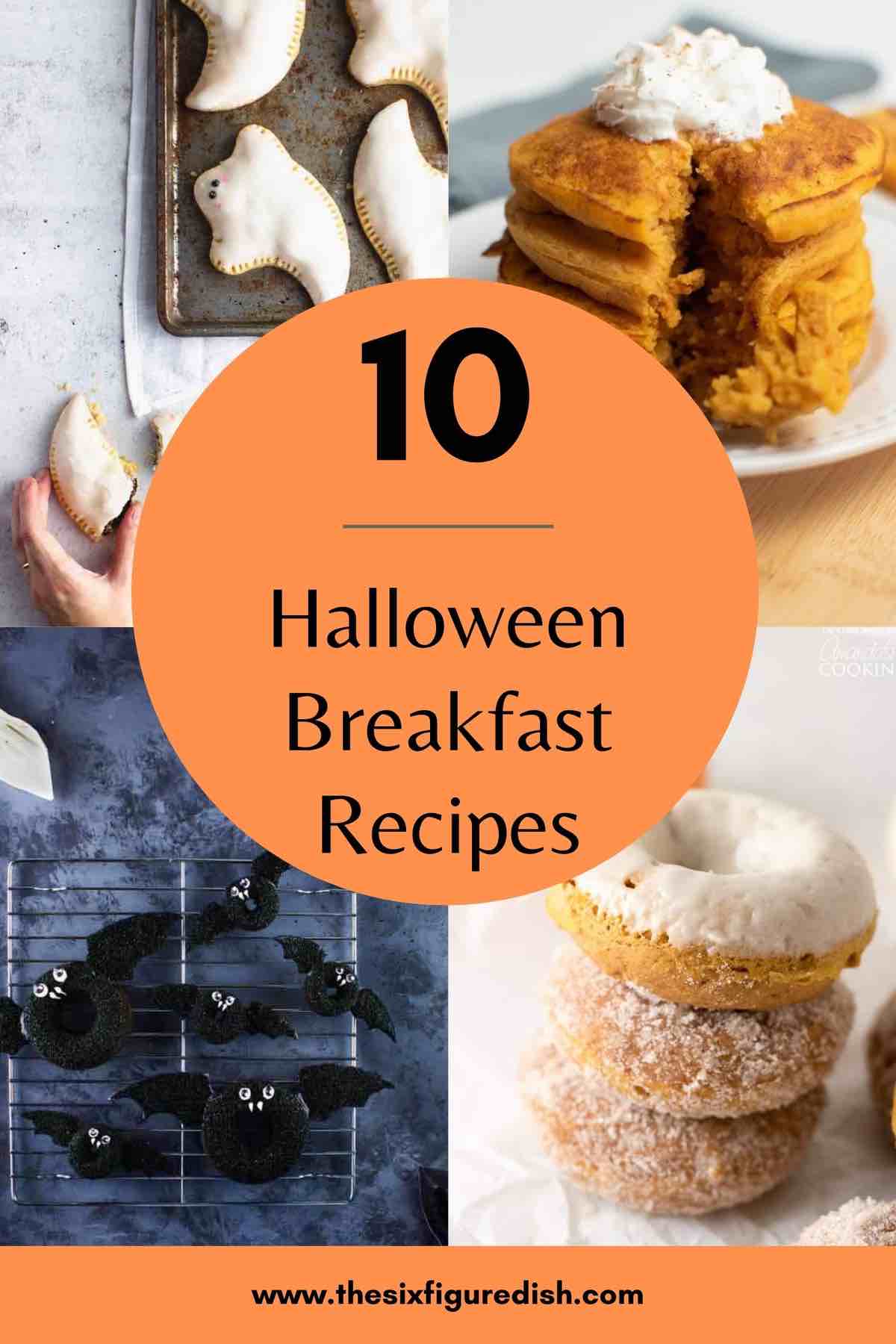 What a fun way to kick off Halloween morning with these delicious pop tart ghosts for breakfast. These homemade treats are made with ingredients you probably already have on hand. Plus, they're super fun and cute to look at.
These extra spooky bat donuts are just the beginning to a fun filled day of Halloween activities and treats. The kids will really enjoy decorating and eating these donuts for breakfast on Halloween morning. Make these rich and chocolatey donuts in just 40 minutes.
These soft and fluffy pumpkin cinnamon rolls make the perfect breakfast treat. Cinnamon, sugar and pumpkin are layered in buttery crescent rolls. This is such an easy breakfast to prepare so make sure to get the kids involved. All you need is 30 minutes and 5 simple ingredients and you're on your way to a very special morning enjoying these homemade treats.
Pumpkin pancakes are such a fun and simple recipe to enjoy for breakfast on Halloween morning. Make these fluffy pancakes with just 4 ingredients including pancake mix. Top them with some pecan syrup for the perfect ending to an awesome breakfast.
Store bought pop tarts have absolutely nothing on these homemade pumpkin maple pop tarts. You can use store bought pie dough to make these yummy breakfast treats which I thought was super cool. This is one of those Halloween breakfast recipes that you will absolutely want to try this year.
Skip that drive to the donut shop and enjoy these pumpkin spice donuts right at home. Top them off with maple glaze or a pumpkin spice coating for a little variety. Prepare these easy homemade donuts in just 30 minutes.
These pumpkin cheesecake muffins will most likely become a staple in your household from here on out. They're super soft and moist. The best part is definitely the cheesecake filling on the inside. I just can't tell you enough how delicious these are. Serve them with a cup of hot coffee or Halloween hot cocoa and prepare to be amazed.
If you're searching for extra creepy and spooky Halloween breakfast ideas, you've come to the right place. These scary zombie guts cinnamon rolls remind me of a horror movie but no doubt, they are delicious! Make them using red velvet cake mix and be ready to put a real twist on the kids' Halloween morning.
Warm up this Halloween season with this decadent candy corn latte macchiato for breakfast. Skip the coffee shop and stay home in your pajamas enjoying this homemade treat. Candy corn flavors always bring me back some great childhood memories so I'd say this is a recipe that you've got to try.
These pumpkin cheesecake French toast roll ups are the perfect treat. Make the homemade pumpkin cheesecake filling with just a few ingredients. This recipe also includes a dipping sauce that everyone will enjoy.
And there you have it guys! This is my little collection of super cute and super spooky breakfast ideas to celebrate Halloween. These Halloween breakfast recipes are not just for kids. Adults can enjoy them as well because they are all still a great way to warm up your mornings on these cold, fall days.